French Emperor Napoleon Bonaparte did not only conquer half of Europe in the early 19th, he also rebuilt Paris as we know it today ! From Paris to the chic western suburb, this scooter Tour of Paris invites you to follow the footsteps of the most world-famous French ruler of all times.
Description of the Napoleon Tour ending on Napoleon's tomb
Our Napoleon Scooter Tour of Paris begins at the Jardin des Tuileries in the center of Paris, at the precise spot where 22-year-old Napoleon Bonaparte first protested against the previous King of France, Louis XVI. We'll cross Paris to see famous monuments built during his reign, such as La Colonne de Vendome, La Place de la Madeleine and L'Arc de Triomphe, and drive through the Bois de Boulogne to reach the Seine.
After riding along the Seine through small typical towns of the Hauts-de-Seine district (92), we'll reach the national Museum of Malmaison, once the residence of Napoleon.
After lunch, we'll arrive at Saint-Cloud where Napoleon Bonaparte was crowned Emperor in 1804.
We'll stroll through the gardens and enjoy views of Paris at the Domaine National de Saint Cloud, a 460 hectare park, conceived by the famous Louis XIV's gardener. This park was labeled Outstanding Park in 2005. After riding along the park forest, we'll appreciate a magnificent and panoramic view of Paris with the Eiffel Tower, Montparnasse Tower and the Butte de Montmartre (topped by the Sacre Coeur).
End of the Napoleon Tour : Napoleon's Tomb
We'll admire views of the parisians bridges on a 30-minute ride along the bank of the Seine until we reach the Eiffel Tower and end our scooter Tour at Les Invalides, which hosts the tomb of Napoleon and his brothers.
Interested in our Napoleon Tour of Paris ?
Look at our conditions:
Pick-Up
If you are staying in a hotel or apartment in Paris we will most likely be able to pick you up and drop you off at your accomodation. Then, the Napoleon Tour will start at your hotel. Otherwise, we'll meet you at a pre-arranged public place that has parking (near a train station like Gare du Nord if you come from London).
Duration of the Napoleon Tour of Paris
Our Napoleon Tour usually lasts a day from about 10:00am to 5:00pm. But if these schedules don't fit your wish, contact us so that we see what we can do.
Your lunch
For lunch time, we usually have a rest in a snack or a French/International restaurant .
What's included in this Tour of Paris
Our prices include : the Vespa delivered anywhere in Paris, 2 X helmets, gas, U-lock, scooter insurance, gloves, your guide and its scooter and French VAT taxes.
Prices & Booking
| Tour | One driver | With a passenger |
| --- | --- | --- |
| Paris Napoleon Tour and visit of Napoleon s tomb | €249 | €50 |
If you want to keep the scooter to drive on your own, that's possible ! (49€/day after a tour). GPS an option. It is a good way to avoid the subway and feel like a Parisian for the rest of your stay!
If you want to book your Vespa Tour of Paris on the footstep of Napoleon, click below to complete the booking form :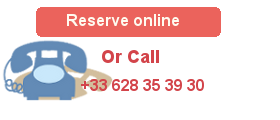 To have more informations, please give us a call or click below to contact us & see "what they think of us"

What's the requirement to participate in our Napoleon Tour of Paris by Vespa ?
To feel confident driving a Vespa scooter and spend a nice day you need to have already driven a moped, Vespa, motorbike…or any 2 Wheels motorized.
More informations about the conditions to rent a Vespa in Paris are available in our FAQ section. Additional details can be asked by e-mail or via our skype account.