You may have planned to stay in Paris just a few days, maybe even overnight. If your time is limited and you want to discover all the Paris Must see, this memorable Tour of Paris by Vespa scooter suits you.
We propose you to leave the touristic crowd and to explore Paris in a new and fun way, by Vespa scooter. Save time and feel free to visit Paris riding your scooter. If you wonder what to see in Paris or what to do in Paris, this tour is for you !

What can you expect during our Paris Must See Tour?
Our Paris Must See Tour itinerary was designed a few years ago by the French team borned in Paris and who know Paris on their fingertips. Now our itinerary is still customized by the guides, based on feedback and wishes from our clients and the best selection of monuments, historical building, museums… that we do think is the most interesting for you. During our Vespa tour of Paris, you will drive your own scooter on your own or with your partner and follow your guide who will drive his own scooter. During this Tour of Paris, you will have a good overview ot the main sites of Paris. Good drivers can already see a lot during this tour. But if you prefer to get a full vision of the City and take more time to relax and talk about Paris, then we advice you our Paris in a day tour by Vespa.
Interested in our Paris Must see Tour?
Check our conditions:
Pick-Up
Usually your Paris must see Tour starts at your hotel. If you just stay a day or even a few hours in Paris, then we'll meet you at a pre-arranged public place that has parking. (near a train station like gare du nord if you come from London)
Duration of the Paris Must see Tour
Our Paris Must See Tour usually last half a day from about 9:30am to 1:00pm or from 2:00pm to 5:30pm. We spoil you: all our Vespa tours are private which means that you won't have to wait other clients at their hotel…Moreover ff these schedules don't fit your wish, contact us so that we'll see what we can do.
What's included in the Paris Must See Tour ?
Our prices include the Vespa delivered anywhere in Paris, 2 X helmets, gas, U-lock, scooter insurance, gloves, your guide with its scooter and French TVA taxes.
Prices & Booking of the tour
| Tour | One driver | With a passenger |
| --- | --- | --- |
| Paris Must See Tour | €149 | €50 |
If you want to keep the scooter to drive on your own and visit Paris by yourself that's possible ! (49€/day after a tour). GPS an option. It is a good way to avoid the subway and feel like a Parisian for the rest of your stay!
What are the requirements to participate in our Vespa Tour ?
To feel confident driving a Vespa scooter and spend a nice day you need to have already driven a moped, Vespa, motorbike…or any 2 Wheels motorized. You also need a current driving licence and a valid card for the 1200€ deposit.(not charged: just a hold)
More informations about the conditions to drive a Vespa in Paris are available in our FAQ section. Additional details can be asked by e-mail.
Places to see during our Paris Must See Tour
Starting at your accommodation in Paris, we'll go through Place de la Concorde to admire its Fountains, its egyptian Obelisk and a view on the French Parliament. Then we'll ride up the Champs Elysees to turn around the Arc de Triomphe.
Then we'll ride back down towards the Eiffel Tower and the Place du Trocadero, one of the things to do in Paris, with its fantastic view all over Paris. Then we'll ride along the Military School, and the impressive Hospital of the Invalides (now a Museum) where lays the Tomb of the Empereur Napoleon and other French main personalities. Ride on the bridge Alexandre III, next to Grand and Petit Palais Museum.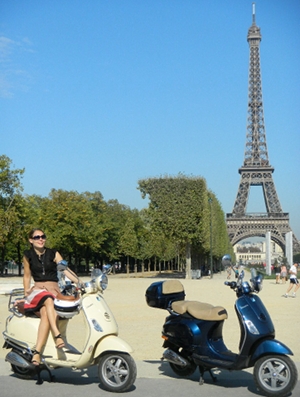 Riding our Vespas, we'll follow the Seine to reach the west point of l'Île de la cité on Pont Neuf, the oldest bridge of Paris, la Place Dauphine (one of the most romantic and peaceful square in Paris), Notre-Dame Cathedral in the heart of the Latin Quarter and the Louvre Museum (which used to be the palace of French kings).
Then we'll take Rue de Rivoli (a famous street which stretches from West to East of Paris), riding along Jardin des Tuileries to arrive at Place Vendôme with its luxury jewelery shops.
We'll cross the luxurious 2nd district with its famous Opera Garnier and then ride to the North of Paris to reach the Moulin Rouge, the Abbesses district and have a break at Montmartre village, an other Must see in Paris…
We'll walk up the cobblestone streets of the artists market of Place du Tertres to find the church of the Sacre-Coeur in Montmartre where we'll get a memorable panoramic view of all Paris.
book a private tour to the palace of Versailles.