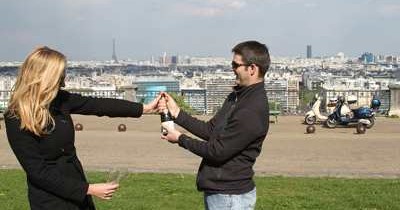 I love Paris by Courtney and Tony, a love story in Paris & to Versailles … by Vespa scooter
Tony decided to surprise his love with a trip to Paris and chose 2 Wheel Tours to organize a tour of Versailles and his engagement proposal. Below is Courntey's testimony: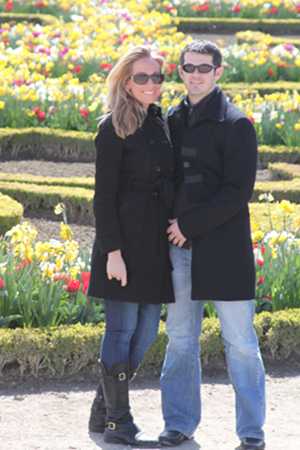 Tony and Courtney's journey on a scooter began prior to their 2 wheel tour of Paris. Tony grew up riding motorcycles and purchased a scooter after moving to Boston, Massachusetts to easily navigate around the city. He passed along his love of 2 wheel adventuring to Courtney, who eventually bought her own scooter as well!
The couple had always spoken about traveling to Paris one day. Courtney fell in love with the city after studying abroad in 2007, and Tony–who has traveled just about everywhere in the world, but Paris–had been waiting to visit the city once he met a very special lady.
And meet–they did. The couple began dating in February 2011 and over a year later, Tony decided it was time to make that very special trip. On Wednesday, April 11th, Courtney thought it was just an average day. Little did she know that Tony would pick her up from work with a suitcase packed and surprise her with a trip to Paris.
Courtney and Tony set out on a private Tour of Paris / to Versailles during their first full day in the city. "Choosing 2 Wheel Tours was one of the best decisions I've made" said Tony, who chose Xavier for his great knowledge of the city, combined with the personal touches he made to their tour. "Xavier and I worked together to create the perfect itinerary for the day complete with landmarks that Courtney and I had always wanted to see."
The couple were picked up at their hotel on the morning of Friday, April 13th, where Courtney was yet again surprised with news that they would be going on a 2 wheel tour. They experienced the beauty of Luxembourg Garden, the architectural masterpiece known as L'Arc de Triomphe among many other monuments, and then set out for Versailles where they toured the gardens. As the day came to a close, there was one last stop they would make on their way back home– a trip to Parc de Saint-Cloud where they would overlook the city and reflect upon their incredible journey.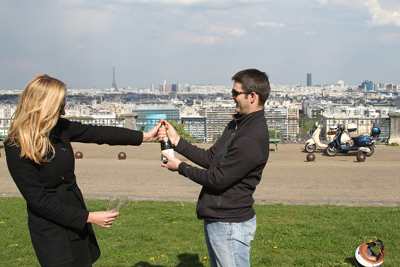 Little did Courtney know that their journey was just beginning there. As the couple looked out over the city, Tony got down on one knee and asked Courtney for her hand in marriage. An ecstatic Courtney screamed "yes!" and the celebrations began!
At the end of the day, the couple had enjoyed the experience so much that they decided to extend their scooter rental for the remainder of the trip. They would go on to adventure throughout the city–visiting the Eiffel Tower, Catacombs and Champs de Elysees via scooter.
"I will never forget our trip to Paris," said Courtney. "Our adventures with 2 Wheel Tour was one of our favorite experiences. The scooters allowed us to visit everywhere we had dreamed of going, and learn first-hand from Xavier about the city of Paris. I love Paris."
Courtney and Tony plan to head back to Paris one day and reunite with Xavier over a cup of coffee and another scooter tour. Until then, they hold their experience with 2 Wheel Tours very near and dear to their heart!
I love Paris !