During your sightseeing tour of Paris we propose you to enjoy the biggest ice rink ever hosted in France : an ice rink on 1800 m² in the heart of Paris. A truly unforgettable experience !
The 5th and 6th January : last week end to enjoy the ice rink !
For the end of the year, the "Grand Palais" decided to transform into a giant ice skating rink for Christmas. This wonderful Ice rink takes place from 13 December 2012 to 6 January 2013 and hosts performances and events.
For this 2012 edition, no Days Festival program but an ice rink in the "Grand Palais" , 2 steps from the Champs Elysees. Indeed, for the first time in its history, the Grand Palais host the largest ice skating rink ever hosted in France.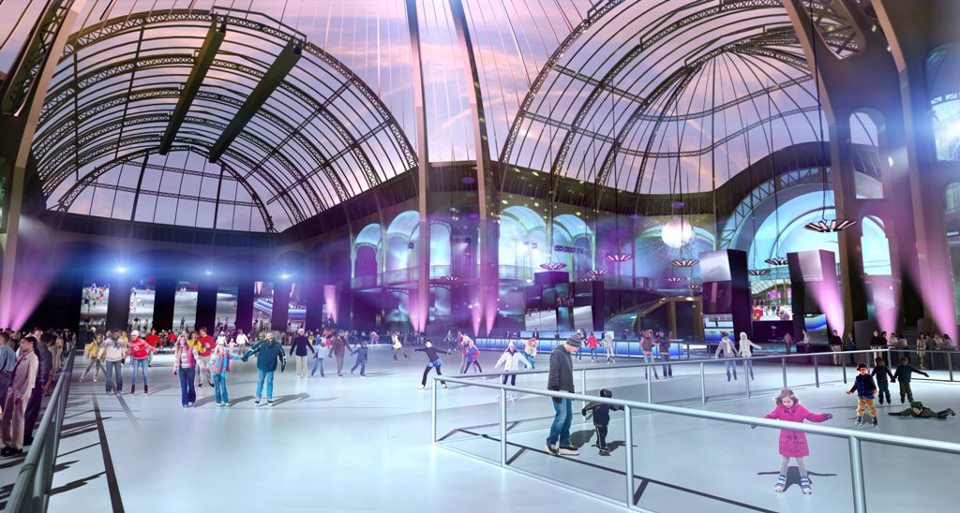 Families and visitors revel in this huge space that holds many surprises. Indeed, not only you can give free rein to practice ice skating but spaces of conviviality have also been built around the rink. This allow you to enjoy the shows and events that take place inside the Grand Palace.
And during the night : the show must go on !
From 8pm, the ice turns into a nightclub on ice!
The music played by DJs (Thursday, Fridays and Saturdays), a dance under the canopy, a bar open until 2am, fast food … and the ice free access!
Minors must be accompanied.
Your Paris sightseeing : how to reach the grand palais ?
> Address:
Nef du Grand Palais
avenue Winston-Churchill 75008 Paris
> locate on a map :
MÉTRO
ligne(s) 1,13 – Champs-Élysées – Clemenceau (124 m)
ligne(s) 1,9 – Franklin D. Roosevelt (443 m)
ligne(s) 8,13 – Invalides (551 m)
ligne(s) 1,8,12 – Concorde (600 m)
More informations on this video :